South Asia – Sichuan Business Promotion Round-Table Conference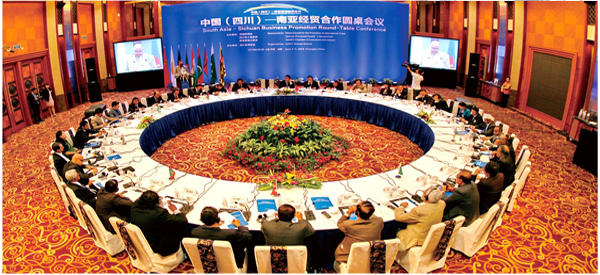 South Asia – Sichuan Business Promotion Round-Table Conference (hereafter "the roundtable conference") is a joint initiative of CCPIT, Sichuan Provincial People's Government and SAARC Chamber of Commerce & Industry commenced in 2010 with a prime objective for the promotion of economic cooperation between Sichuan and South Asia in particular and China and South Asia in general. Permanent site of the roundtable conference is in Chengdu and CCPIT Sichuan Council is the organizer. The roundtable conference has been successfully held for seventh sessions and played an important role in strengthening economic relations between Sichuan and South Asian Countries (Afghanistan, Bangladesh, Bhutan, India, Maldives, Nepal, Pakistan and Sri Lanka), and promoting the quality of open economy of Sichuan province. The roundtable conference has become an important platform for the communication and exchanges between Sichuan and South Asia
I. "The roundtable conference" pushes forward high-level visit and international exchanges
Major leaderships of CCPIT, Sichuan Provincial Government, SAARC CCI and political figures involve in Industry, agriculture, power, energy and trade & commerce as well as leading businessmen, major associations and well-known entrepreneurs from South Asian countries attended the former seventh sessions of the "roundtable conference". They set up multilateral cooperation mechanism, established a bridge for Sichuan businessmen to "go abroad" and South Asian businessmen to "come in" which works effectively.
II. "The roundtable conference" sticks to innovative development and integrates into one belt one road
The eight South Asian countries are important countries along the "one belt one road" and is also key region for Sichuan's outward development. The roundtable conference attaches importance to strengthen the window effect of Sichuan to South Asian Countries; takes advantage of functions of chambers of commerce to carry out extensive consultation, discuss economic situation, complementary industries, infrastructure, trade, investment and other hot topics; actively looks for new cooperation areas; and brings in creative ideas to lead the New Normal and refreshes the roundtable conference itself.
III. "The roundtable conference" highlights economic cooperation and realizes mutual benefits
From the first session to the seventh session, related events such as "South Asian Commodity Trade Fair", "Sichuan – South Asia Business B2B Matchmaking Meeting", "South Asian Investment Projects Promotion Seminars", "Sichuan Companies Go to visit South Asian Countries" and other economic events are derived from "the roundtable conference", a lot of projects cooperation agreements covering energy, automobile, agriculture, infrastructure and etc. are signed. More and more Sichuan companies are willing to "go abroad" and invest in South Asia; more and more South Asian countries are willing to look for business opportunities in Sichuan, this effective interaction helps to achieve mutual benefits.
The seventh "South Asia – Sichuan Business Promotion Round Table Conference" will be held in Chengdu in October, 2016. The conference will embroider the theme of "Construction and Development of Infrastructure in South Asian Countries" and "Investment, Trade and Industrial Transfer", looks for new direction of cooperation and creates new opportunities for both Sichuan and South Asian Countries.
Under the leadership of the CPC Sichuan Committee and Sichuan Provincial Govern -ment, in response to the great initiative of "One Belt & One Road" the Roundtable Conference will continue to serve as a platform for exchange between South Asia and Sichuan province, and will write a new chapter in their economic and trading cooperation.
For more information, Please contact Ms. Wenjun Su(Sue).
Telephone No. +86 28 68909136
Mobile: +86 015828037016
E-mail: suwenjun@ccpit.org