Current position: Home > News Center > Information Centre
Vice President ,LV Fu Rong Met with the Guest from Welsh Government
Source:International Cooperation Department Reading times:

10

Time:

2017-03-29
In the afternoon of November 2, 2015, Vice president of CCPIT Sichuan Counci, Madam LV Fu Rong met with Mr. Gary Davis, Director of External Relations Welsh Government.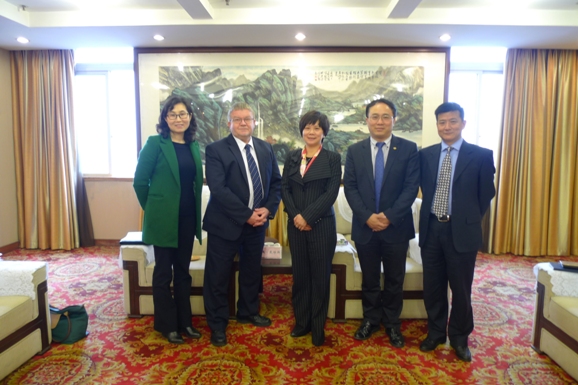 Vice president Madam LV Furong meets Mr. Gary Davis.
During the meeting, Vice prisident LV Furong introduced the economic develpment of Sichuan focusing on the pillar industries in the province including manufacturing/ney energy and automabile and invited the companies from Welsh to participate in Chengdu Internaitonal Trade Fair for Automative Parts and Aftermarketing Servide. Mr Garg Davis also introduced that there are quite large number high qulaity SMEs in Welsh. .Both sides agree that cooperation in the area of new energy, equipment manufacturing, automobile and aerospace between Welsh and Sichuan can be forseen.
Copyright©2015 www.ccpit-sichuan.org Registration Number: 150425518
All rights reserved. The content (including but not limited to text, photo, multimedia information, etc) published in this site belongs to www.ccpit-sichuan.org
Without written authorization from www.ccpit-sichuan.org, such content shall not be republished or used in any form.