Current position: Home > News Center > Information Centre
President LI Gang met with Consul General of India in GuangZhou
Source:International Cooperation Department Reading times:

19

Time:

2017-04-05
On December 8 of 2015, Mr. Sailas Thangal, newly appointed India Consul General in GuangZhou paid a visit on ccpit Sichuan Council, Mr. LI Gang, president of CCPIT Sichuan Council met with him and spent time introducing the trade relation between India and Sichuan, and the past South Asia -Sichuan Business Promotion Round-Table Conference. President LI Gang invited well-known Indian IT and Auto companies to participate in 2016 China (Chengdu) Smart Industry International Expo and Chengdu International Trade Fair for Automative Parts and Aftermarketing Service.
Mr. Sailas Thangal expressed his appreciation for the meeting with President LI Gang. He also briefed on "Make in India Week to be taken place in Mumbai in February of 2016. Both sides agreed to conduct a promotional seminar on "Make in India Week" to attract Sthe attention of Sichuan companies.in later January of 2016.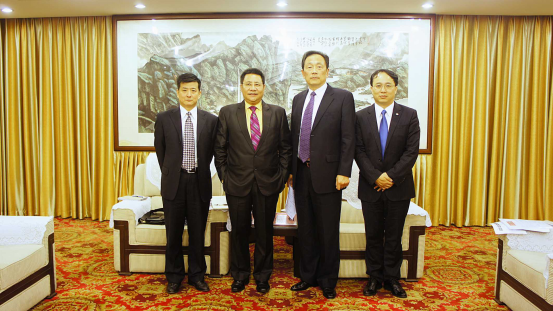 President LI Gang(the 2nd one from the right) is with Consul General Sailas Thangal (the 2nd one from the left)
Copyright©2015 www.ccpit-sichuan.org Registration Number: 150425518
All rights reserved. The content (including but not limited to text, photo, multimedia information, etc) published in this site belongs to www.ccpit-sichuan.org
Without written authorization from www.ccpit-sichuan.org, such content shall not be republished or used in any form.