President LI Gang Met Consul General Mr. Diossi Lorando of
Source:International Cooperation Department Reading times:

44

Time:

2017-04-06
In the afternoon of December 12, 2016, President Mr. LI Gang of CCPIT Sichuan met Mr. Diossi Lorland, newly appointed Consul General of Consulate General of Hungary Chongqing.

President LI Gang siad that CCPIT Sichuan paid great attention to develop trade and economic cooperation with Hungary. With the constant support from Consulate General of Hungary ChongQing, CCPIT Sichuan have sent a few business delegations to visit Hungary with the great assistance from local chambers of commerce and industry in Hungray in recent years. We look forward to keep closer contacts and cooperation with Consulate General of Hungary Chongqingwork to assist companies both sides concreting and upgrading their business cooperation.
Consul General Mr.Diossi Lorland expressed his willingness to continue the good relationship with Sichuan CCPIT. Meanwhile He indicated that Ther was great potential between Sichuan and Hungary in the field of Automobile, medical and agriculture. the Consultae General will try to pormote the Opportunities in Sichuan to Hungarian companies.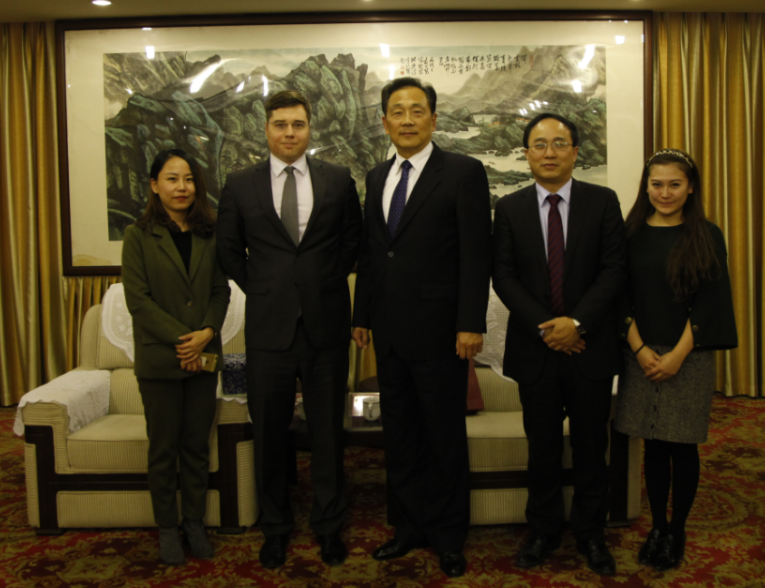 President LI Gang(middle)meets Consul General Mr. Diossi Lorland (the 2nd one from the left)of Consulate General of Hungary Chongqing
President LI Gang also sent his invitation to Hungarian companies for the participation in 2017Chengdu International Trade Fair for Automotice parts and aftermarketing service and 2017 China(Chengdu) Smart Industry International Expo