President Li Gang Met with a Delegation Headed by Newly Appointed Consul General of Consulate General of Pakistan in Chengdu
Source:international cooperation department Reading times:

4

Time:

2017-10-11
On the afternoon of October 11, 2017, Li Gang, President of CCPIT Sichuan Council met with a delegation headed by Mohammed Tipu, newly appointed Consul General of Consulate General of Pakistan in Chengdu.
President Li Gang met with a delegation headed by the Newly Appointed Consul General of Consulate General of Pakistan in Chengdu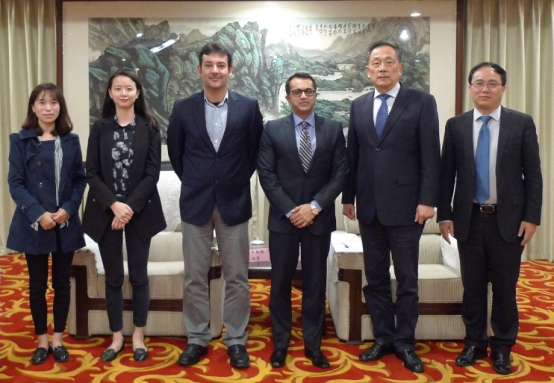 President Li Gang expressed his warmth welcome to Mohammed Tipu's first visit after his appointment as the Consul General, and thanked Consulate General of Pakistan in Chengdu for its support of CCPIT Sicuan Council. He recalled the long standing friendship between China and Pakistan, and the long and close cooperation between CCPIT Sicuan Council and Pakistan Consulate General as well as Federation of Pakistan Chambers of Commerce & Industry (FPCCI). President Li Gang introduced to Consul General Tipu the annual China (Sichuan) -South Asian Economic and Trade Cooperation Round Table Conference held by CCPIT Sicuan Council and South Asia Industry and Commerce Chamber, and he invited Consulate General to organize Pakistan enterprises to participate in CCPIT Sicuan Council's annual "Automobile Parts Exhibition" and "Smart City Expo".
Consul General Mohammed Tipu thanked President Li Gang and the constant support from CCPIT Sicuan Council, and he said he would continue strengthening and developing the friendship and cooperation. He hoped that under mutual efforts, Sichuan and Pakistan's economic and trade partnership will be strengthened.
The two also exchanged opinions on Pakistan tourism development, setup of Pakistan cultural museum, opening of Chengdu-Lahore direct flight, promotion on cooperation between Pakistan Commerce Chamber and different special committees of Sichuan International Commerce Chamber, etc.
Head of International Cooperation Department was also present at the meeting.