President Li Gang Meets with a Business Delegation from Thailand Led by Professor Nikorn Wattanapanom, Former President of the Business School of the National Administrative Development Institute of Thailand
Source:International Cooperation Department Reading times:

63

Time:

2018-03-29
President Mr.Li Gang Meets with a Business Delegation from Thailand Led by Professor Nikorn Wattanapanom, Former President of the Business School of the National Administrative Development Institute of Thailand
On the afternoon of March 29, 2018, President Li Gang of the CCPIT Sichuan Council met with a business delegation of more than 20 people from Thailand led by Professor Nikorn Wattanapanom, former President of the Business School of the National Administrative Development Institute of Thailand.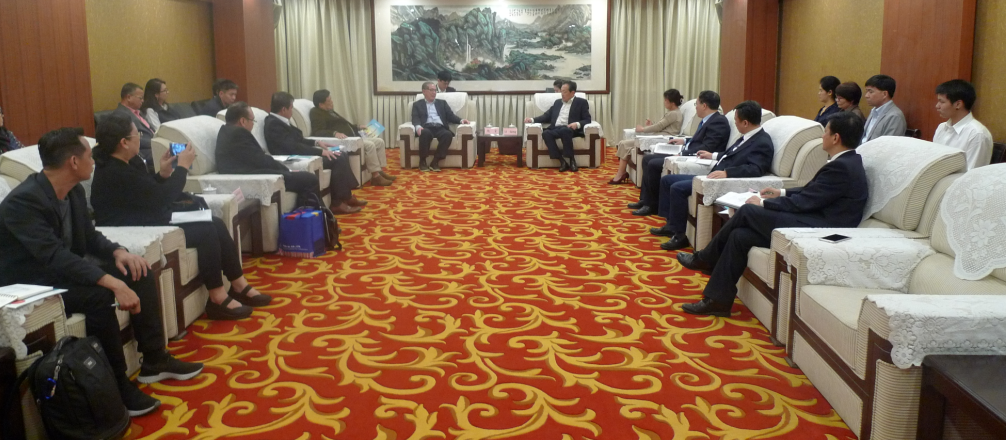 President Li briefed the delegation on the basic situation in Sichuan, reviewed the close exchanges between Sichuan Council and relevant Thai institutions in recent years, and stressed that CCPIT Sichuan Council has always attached great importance to relations with Thailand. Almost every year, various docking talks, commodity exhibitions and other activities are held with the business associations of Thailand or the Consulate General of Thailand in Chengdu. He mentioned that last year the Nakhon Ratchasima delegation and CCPIT Sichuan Council successfully held the Sichuan-Thailad docking meeting, which worked very well and set up a good interactive exchange platform for Thai and Sichuan enterprises. President Li Gang also invited the Thai Chamber of Commerce to organize a delegation to participate in the annual "Automobile Parts Exhibition" and "International Expo on Smart Industries" organized by Sichuan Council.
Professor Nikorn Wattanapanom introduced the members of the delegation to President Li Gang and expressed special thanks to the Sichuan Council for arranging the meeting. This time, representatives from the food, leisure and health, construction and automobile industries were brought here. They looked forward to strengthening cooperation with Sichuan in the above areas and welcomed Sichuan enterprises to invest and develop their businesses in Thailand.
Both sides exchanged views on specific areas such as the logistics environment, import and export of fruits, and others.
The meeting was accompanied by the Secretary General, and leaders from International Cooperation Department, Conference and Information Department, and the Exhibition Department.