Current position: Home > News Center > Information Centre
China-Pakistan Business Council Sichuan Liaison Office Donated the Second Batch of Epidemic Prevention Materials to Pakistan
Source:China-Pakistan Business Council Sichuan Liaison Office

Time:

2020-07-20
On July 15, 2020, under the witness of mainstream media such as ATV and geo news, Ma Jian, representative of Sichuan Liaison Office of China Pakistan Business Council (hereinafter referred to as "liaison office"), donated 25000 masks to Islamabad city government of Pakistan.
This is the second batch of epidemic prevention materials donated to Pakistan by Chinese enterprises since the outbreak of the epidemic this year. Prior to this, the Liaison Office donated more than 2 million yuan worth of epidemic prevention materials, including masks, respirators, test boxes and so on, to the Consulate General of Pakistan in Chengdu.
Epidemic prevention materials donated to Islamabad municipal government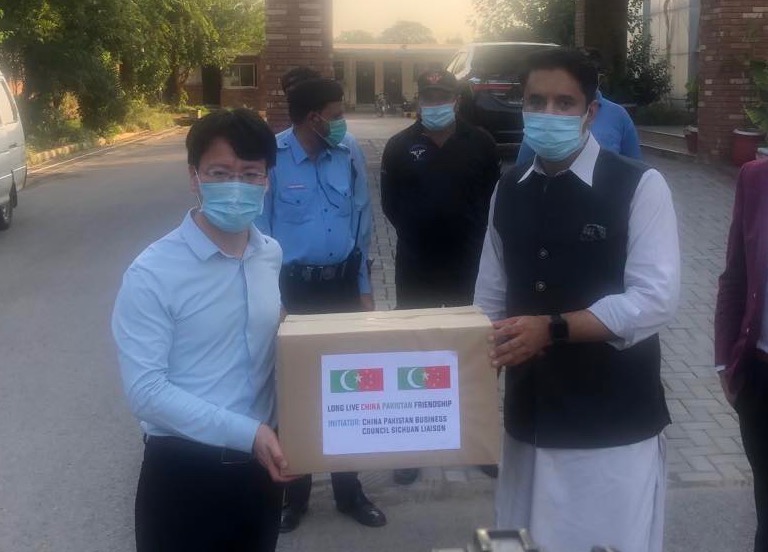 Representative Ma Jian (left) donates masks to Islamabad Vice Mayor Hamza Shafqat (right)
Copyright©2015 www.ccpit-sichuan.org Registration Number: 150425518
All rights reserved. The content (including but not limited to text, photo, multimedia information, etc) published in this site belongs to www.ccpit-sichuan.org
ICP:蜀ICP备05030067号Without written authorization from www.ccpit-sichuan.org, such content shall not be republished or used in any form.