Foreign Government Agencies and Business Associations Visit 2020 Sichuan (Chengdu) Auto & Parts International Fair
Source:International Relations Dept.

Time:

2020-07-24
On July 24, 2020 Sichuan (Chengdu) Auto & Parts International Fair is in full swing. Mr. Mahmood, Acting Consul General of Pakistan in Chengdu, Mr. Chen Yanting, Taiwan Trade Center Chengdu Representative Office, Mr. Lau Kin-choi, Investment Promotion Officer of Hong Kong Economic and Trade Office in Chengdu, and other representatives from 8 foreign government agencies and business associations were invited to attend the exhibition.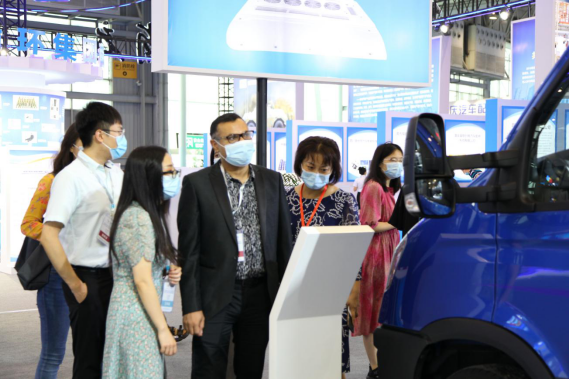 Mr. Mahmood,acting Consul General of Pakistan in Chengdu stops in front of the intelligent sprinkler truck
Accompanied by Lei Xuejie, vice president of CCPIT Sichuan Council, Mr. Mahmood paid special attention to the new energy vehicle booths. He had an in-depth communication with the person in charge of Mianyang Special Purpose Vehicle Co., Ltd. of China National Heavy Truck Group. He said that the company produced a complete range of intelligent sprinkler models, which could meet all kinds of needs, and its sales price was very advantageous in the Pakistan. At the same time, he also visited Yibin Chery, Chengdu Shudu bus, and Chongqing auto parts exhibition area. He said that Pakistan and Chongqing have a good foundation for cooperation in the auto parts industry. Sichuan auto parts industry has a complete range and high product quality. He hopes that more vehicle and spare parts enterprises in Sichuan can go to the Pakistan market through the CCPIT Sichuan Council.
Chen Yanting, director of Chengdu Representative Office of Taiwan Trade Center, exchanged views with leaders of relevant enterprises
Mr. Chen Yanting, accompanied by Mr. Fan Jun, vice president of CCPIT Sichuan Council, visited visited Yibin, Neijiang and other cities' exhibition areas in detail, focusing on the introduction of new energy vehicles such as Shudu bus and Kaiyi automobile, and had an in-depth exchange with the person in charge of Chengdu new energy industry alliance. He said that Taiwan holds the Taipei Auto Parts exhibition every year, and hopes that the CCPIT Sichuan Council and the Taiwan Trade Center will jointly explore opportunities in the auto parts industry of the two places and promote the development of the auto parts industry in the two places.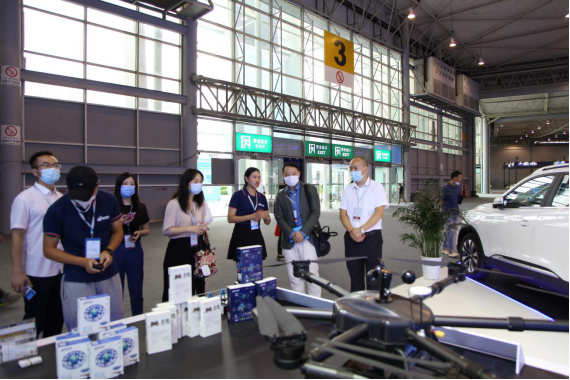 Mr. Lau Kin-choi visited the exhibition in Yibin area
Accompanied by Wen Kangjun, vice president of CCPIT Sichuan Council, Mr. Liu Jiancai visited Chongqing exhibition area, Yibin, Mianyang, Neijiang and Nanchong exhibition areas. He learned about the basic situation of the exhibition, the layout of automobile industry in Sichuan Province and the development status of automobile industry in various cities, asking about the product performance, application scope, overseas business, etc. in detail, collect and read the product introduction manual. He hopes that enterprises could come to Hong Kong to participate in relevant exhibition activities, and actively take advantage of Hong Kong as an international financial center and tax incentives to develop overseas markets in Southeast Asia and Africa.
Officers from Consulate General of the Republic of Austria and Consulates General of Switzerland in Chengdu, and other agencies from Canada, South Korea, New Zealand also visited the exhibition.