Tim White, Commercial Consul General of Consulate General of Australia in Chengdu Visit CCPIT Sichuan Council
Source:International Relation Dept.

Time:

2020-08-05
On August 5, 2020, Vice President Mrs. Lei Xuejie met with Tim White, Commercial Consul of Consulate General of Australia in Chengdu and his delegation.
Consul Tim White expressed his gratitude to CCPIT Sichuan Council for its consistent support. He briefed Mrs. Lei on the B2B Matchmaking in Chengdu Station to be held in September, and asked CCPIT Sichuan Council to help organize Sichuan enterprises to carry out docking negotiation with Australian enterprises. He also introduced Australia's innovative activities and modes in education, pension, tourism, environmental protection and other new service industries in recent years, hoping to strengthen cooperation between Sichuan and Australia in relevant fields in the future.
Vice President Lei Xuejie welcomed Consul Tim White and said that we would actively cooperate with Australia and try our best to help organize Sichuan purchasers to participate in the activity. In addition, she introduced to consul Tim White the economic and trade activities such as "Sichuan Auto Parts International Fair" and "Smart Industry Expo" held by CCPIT Sichuan Council and the plan to set up "Overseas Panda Food Culture Center". She also welcomed Australian enterprises organized by Australian Trade and Investment Commission to participate in the exhibition. She hoped to establish a Center in Australia in the future to promote bilateral economic, trade and cultural exchanges through food. She said that Australia has high-quality technology and advanced experience in the food and beverage industries such as beef and dairy products, and the service industries such as education, medical treatment, health care and environmental protection, while Sichuan has a large demand in this field, and the two sides have great potential for cooperation. Australia is welcomed to organize more enterprises to invest in Chengdu, and hold a supporting special forum to promote business opportunities and investment environment of Australia during the "Smart Industry Expo" next year.
Relevant personnel from International Relation Department and Trade and Investment Promotion Department accompanied the meeting.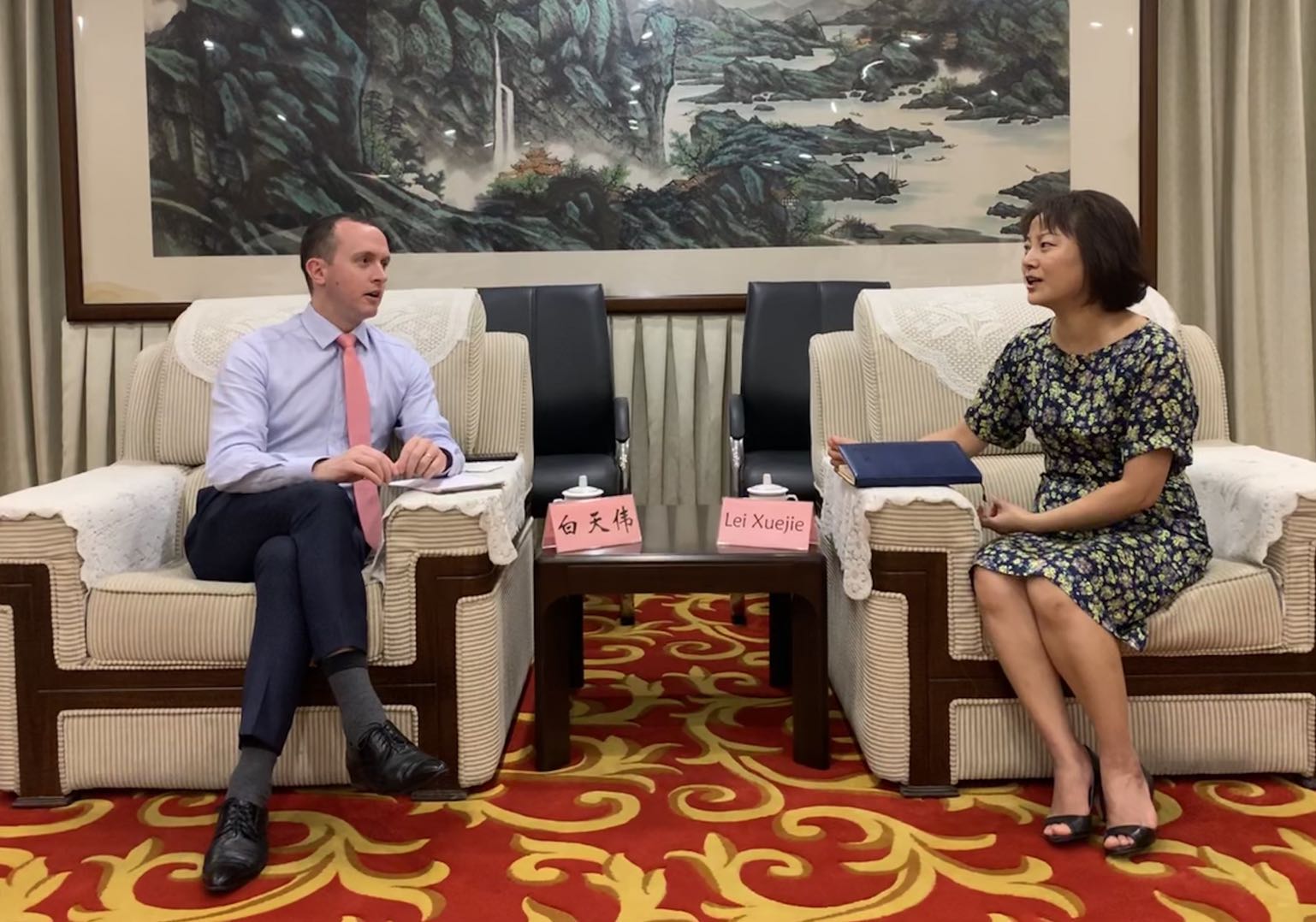 Vice President Lei Xuejie (right) meets with Consul Tim White (left)