On July 21, the 6th China (Chengdu) Smart Industry International Expo and 2021 China Information Technology Application Innovation Industry Conference Co-sponsored by CCPIT Sichuan Council , Sichuan Internet Information Office and Sichuan Science and Technology Association and supported by more than 10 provincial-level related departments officially opened.
It is reported that the Smart Expo will last for 3 days, from July 21 to July 24. With the theme of "Developing Digital Economy and Building a Smart Society", it closely follows the development direction of Sichuan's industry, focuses on key areas such as, information technology application innovation industry, big data applications, and smart cities, integrates government and corporate resources on a larger scale, and builds a platform for industry exchanges and docking.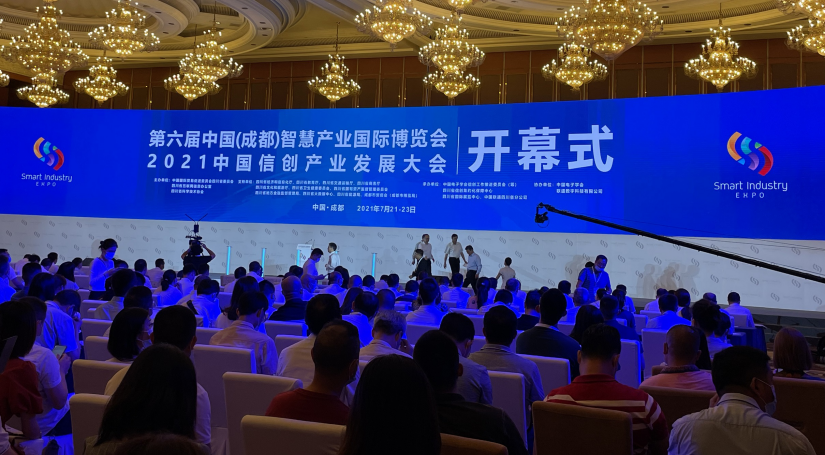 The reporter saw at the scene that this Smart Expo was held in Halls 2 and 3 of Chengdu Century City New International Convention and Exhibition Center, with an exhibition area of 15,000 square meters, bringing together more than 210 leading companies in information technology application innovation industries and well-known electronic information companies such as China Unicom, China Electronics, and Kingsoft will participate in the exhibition, showcasing the latest achievements of the new generation of information technology and digital economy such as smart cities, smart terminals, 5G, artificial intelligence, and big data.
In this three-day event, there will be a series of blockbuster events, from 2021 China (Sichuan) Information Technology Application Innovation Industry Exhibition, 2021 China Information Technology Application Innovation Industry Development Conference, 2021 China Information Technology Application Innovation Industry Cooperation Roundtable Forum, to the postponed 2020 Dubai World Expo China Participation Roadshow (Sichuan Station), the connotation and extension of the Smart Expo continue to expand. With the digital economy as the medium, more Sichuan forces will emerge in the in-depth integration with the global industrial system.
In recent years, Sichuan has accelerated the construction of a "5+1" modern industrial system, focusing on the development of five trillion-level pillar industries including electronic information and the digital economy. In 2020, the operating income of the electronic information industry is nearly 1.3 trillion yuan, an increase of 22.6%, making it the first pillar industry in the province. New growth points such as the Internet of Things, cloud computing, big data, and mobile Internet continue to emerge. The digital economy contributes nearly 1/3 of the GDP, providing important support for the construction of the national digital economy innovation and development pilot zone.
Zhang Shenfeng, vice Chairman of CCPIT, stated at the opening ceremony that new technologies such as the Internet, big data and artificial intelligence are important forces that change the economic and social structure and the world economic structure. China urgently needs to vigorously promote the innovation of information technology applications, accelerate the establishment of an independent, safe, and controllable information technology infrastructure and standards, and ensure the steady and healthy development of economic digital transformation.