On October 12, 2021, President Mrs. Huang Li met with Mr. Gustavo Diaz Hidalgo, Consul General of Chile in Chengdu.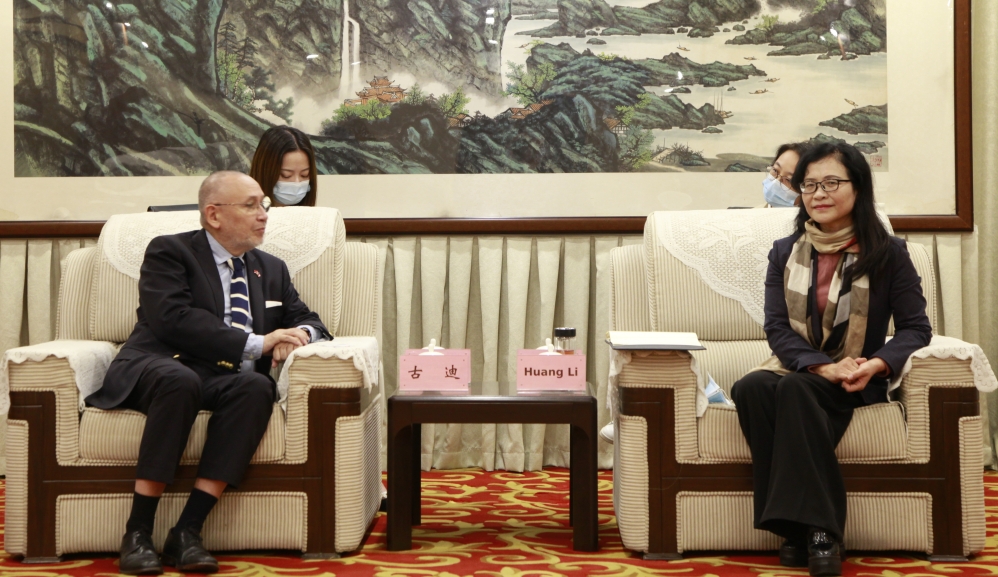 President Mrs. Huang Li met with Mr. Gustavo Diaz Hidalgo
President Huang Li welcomed Mr. Gustavo for the visit. She briefly introduced the situation in Sichuan Province, the functions and main activities of CCPIT Sichuan. She said that both Sichuan and Chile are rich in agricultural and mineral resources, and the cooperation between the two sides has a solid foundation. As the first Latin American country to set up a consulate general in Sichuan, Chile and Sichuan's economic and trade cooperation will surely achieve more fruitful results. CCPIT Sichuan is willing to further strengthen cooperation with the Consulate General. In this regard, she suggested: Focusing on industrial development to promote exhibition cooperation. It is hoped that the Consul General will organize Chilean companies to participate in the Western China International Fair(WCIF), Chengdu International Trade Fair for Automotive Parts and Aftermarket Services, China(Chengdu) Smart Industry International Expo, and "Sichuan Day" of Dubai World Expo and other important exhibition activities; Focusing on Dual-City circle opportunities to deepen regional cooperation. CCPIT Sichuan invites the consul general to participate in various activities organized by both Sichuan and Chongqing CCPIT System, so that more Chilean companies can actively pay attention to and participate in the Chengdu-Chongqing Dual-City Economic Circle construction; Focusing on corporate services, promote trade and investment, strengthen bilateral cooperation in business law services, information exchange and optimization of the business environment, and jointly serve bilateral companies.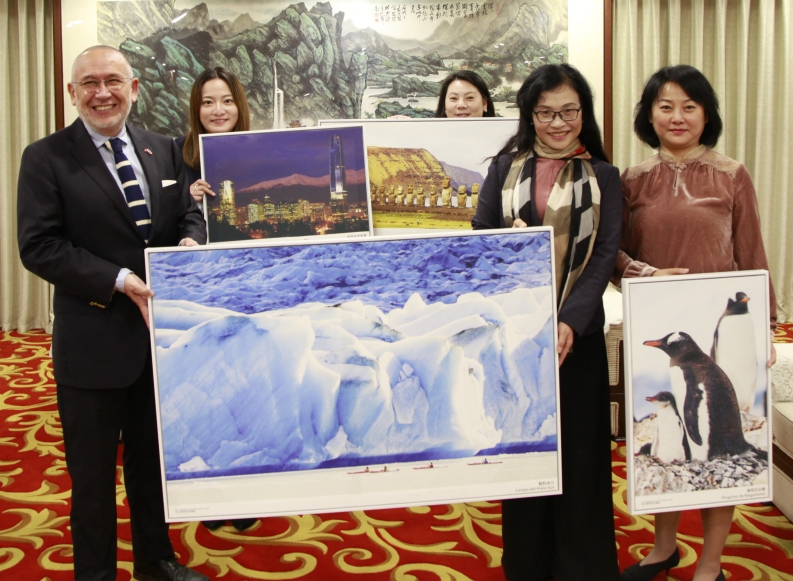 President Huang Li presents some pictures of the "China (Sichuan)-Chile Photo Exhibition" to Mr. Gustavo
Mr. Gustavo expressed his sincere gratitude to President Huang Li and CCPIT Sichuan for the consistent support, especially for the "China (Sichuan)-Chile Economic and Trade Exchange Conference" held during the opening of the consulate. He said that the consulate will pay close attention to the construction of the Chengdu-Chongqing Dual-City Economic Circle and other national strategies, and actively promote the cooperation between Chile and Southwest China in the areas of technology introduction, raw material import and export, food and agriculture and animal husbandry trade, and tourism and humanities. He also hopes that CCPIT Sichuan will provide more international trade law services for both companies.
Vice President Lei Xuejie and relevant personnel from the International Relations Department accompanied the above activities.