On December 15th, hosted by the Sichuan Provincial People's Government, co-organized by CCPIT Sichuan Council and other 16 units, the Sichuan Day of China Pavilion at 2020 Dubai Expo, with the theme of "Cooperative Innovation, Tianfu Opportunities" was held in Dubai, Chengdu and Chongqing both online and offline.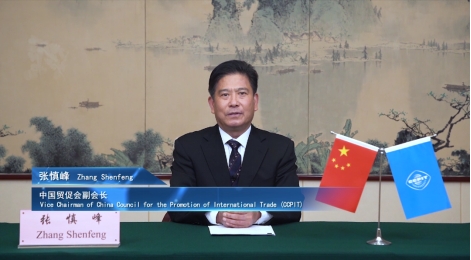 Zhang Shenfeng delivers speech
At the opening ceremony, Zhang Shenfeng, Commissioner General of China Pavilion at Expo 2020 Dubai and Vice Chairman of CCPIT, Li Yunze, Vice Governor of Sichuan Province, Ali Obaid Al Dhaheri, UAE Ambassador to China, Li Xuhang, Consul General of China in Dubai, and Hamad Buamim, Chairman of the World Chamber Federation and President & CEO of Dubai Chamber of Commerce & Industry attended and delivered a speech via video. Fahad Al Gergawi, CEO of Dubai Investment Development Agency, attended the Dubai conference and delivered a speech. Officials from the consulates of South Korea, Nepal, Australia and other countries in Sichuan, representatives of foreign business associations and economic and trade organizations, CCPIT Chongqing and other officers of Sichuan Provincial departments Participated in Dubai and Chengdu, as well as the heads of relevant government departments and chambers of commerce in the UAE. Over 3.54 million people at home and abroad watched the grand event of Sichuan Event Day through synchronized webcast.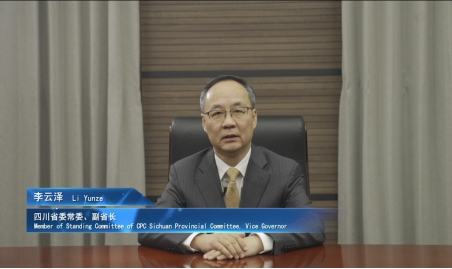 Li Yunze delivers speech
Zhang Shenfeng said that Sichuan is an important economic center and consumption center in western China. It is vigorously implementing a comprehensive opening up and cooperation strategy and accelerating its integration into the "Belt and Road" and the world economic integration pattern. The Sichuan Event Day is held in a combination of domestic and overseas, inside and outside the EXPO park, and online and offline. It has various forms and rich content, and vividly displays the colorful and different Sichuan in a three-dimensional and comprehensive manner. The China Pavilion will continue to organize a variety of exhibitions and activities, promote international economic and trade exchanges and cooperation, and make positive contributions to promoting the high-quality development of the "Belt and Road" and building a community with a shared future for mankind.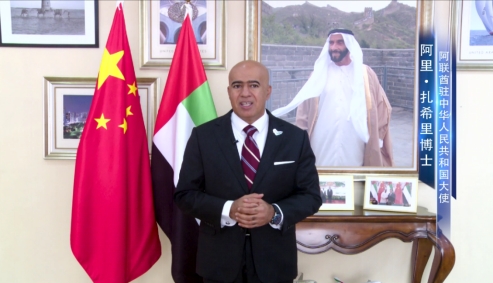 Ali Obaid Al Dhaheri delivers speech

Li Yunze said that Sichuan has always attached great importance to and actively participated in World Expo activities. It has participated in Shanghai World Expo, Milan World Expo and Beijing Expo and has achieved fruitful results. Sichuan will earnestly study and implement the spirit of President Xi Jinping's speech at the China Pavilion at the World Expo in Dubai. Taking this event as an opportunity, it will closely follow the theme of the China Pavilion "Building a Community with a Shared Future for Mankind—Innovation and Opportunity" to showcase the unique charm and development of Sichuan in an all-round way and to promote the realization of win-win cooperation in higher level and broader fields with all parts of the world.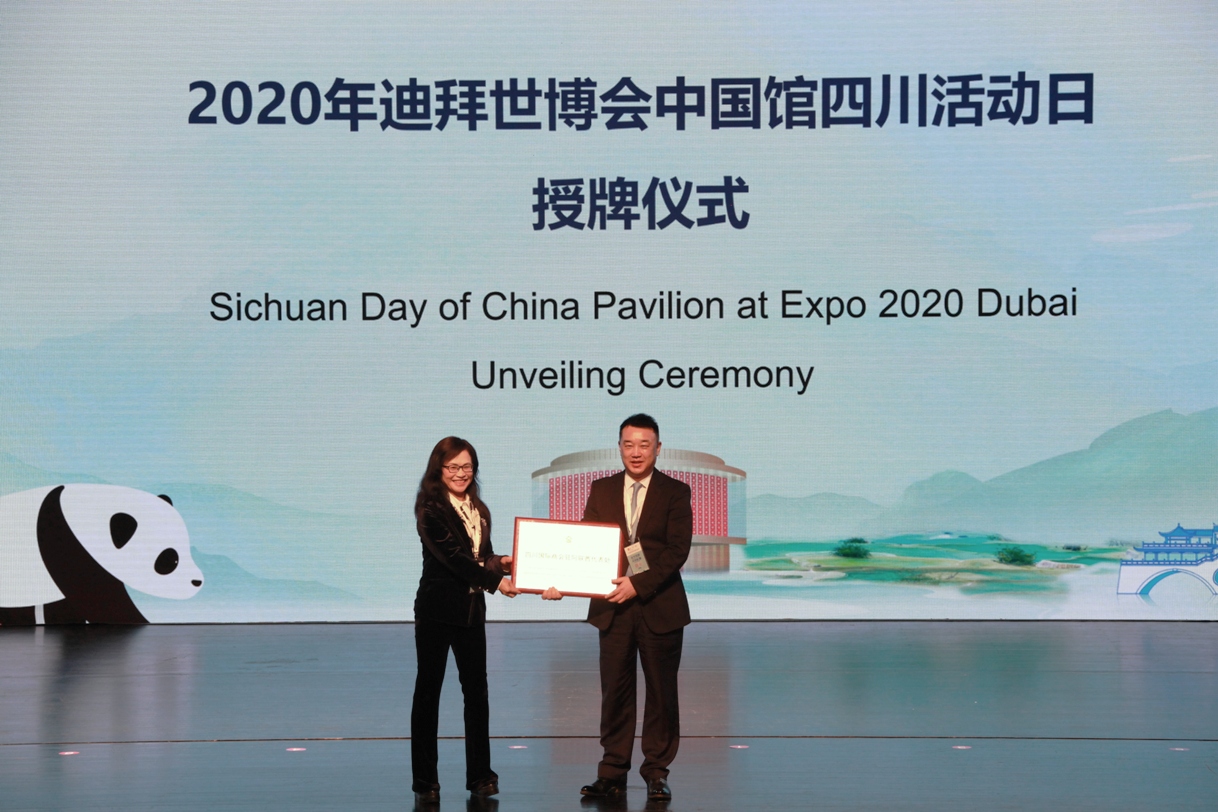 Unveiling ceremony of Sichuan Chamber of International Commerce UAE representative office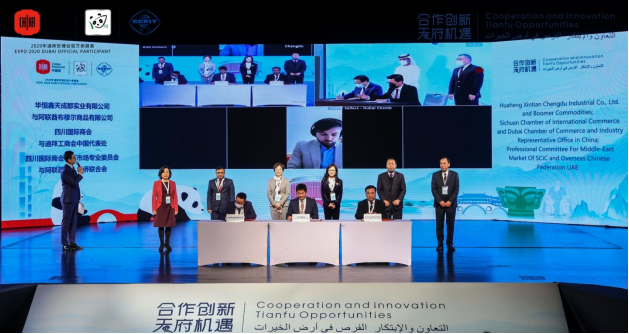 Siging ceremony

Ali Tashiri said that the Dubai World Expo is the largest global cultural event since the covid-19. The China Pavilion is one of the largest pavilions in this year's World Expo. It showcases China's outstanding achievements in the fields of science, technology and sustainable development. In line with the common belief in sustainable development and building a "community with a shared future for mankind", the UAE and China have established a comprehensive strategic partnership. While the Dubai World Expo will bring business opportunities to the UAE, it will also create more new opportunities for Chinese companies to develop in the UAE.

Sichuan characteristic performance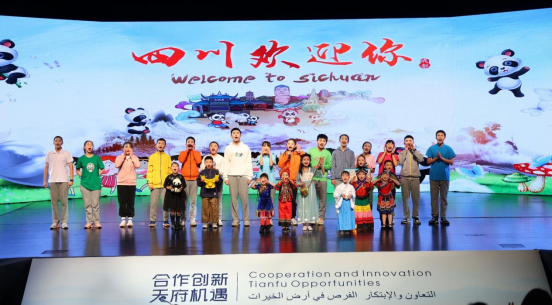 Children are inviting peoole worldwide to visit Sichuan with multiple languages

At the opening ceremony, the Sichuan Chamber of International Commerce representative office in the UAE was officially unveiled, becoming the first representative office of CCOIC Sichuan in the Middle East, which will smooth the bridge of communication and promote more practical cooperation between Sichuan and UAE. Sichuan Chamber of International Commerce and Dubai Chamber of Commerce and Industry China Representative Office, Sichuan Chamber of International Commerce Middle East Market Professional Committee and UAE Chinese Overseas Chinese Federation, Huaheng Xintian Chengdu Industrial Co., Ltd. and UAE Bumoer Commodities Co., Ltd. signed cooperation agreements with a contract amount of 50,100 million yuan. Two important cities in the Chengdu metropolitan area, Chengdu and Meishan, also made wonderful city presentations, sharing new development opportunities with the world. In addition, cultural performances with strong Sichuan characteristics were held, and live connections were made with Jinjiang District and Wuhou District of Chengdu.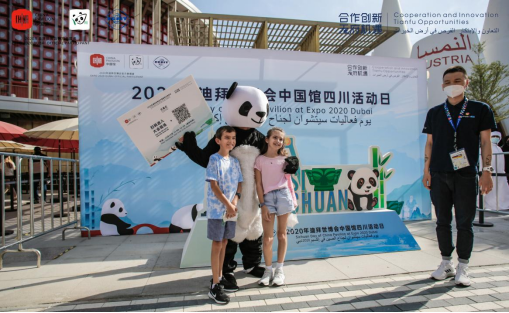 Audience participate in Sichuan Day at the Dubai venue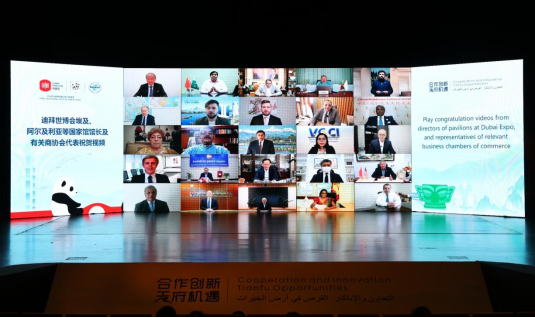 Congratulatory video compilation of the foreign business associations

The "Sichuan Day" also held a series of activities at the same time as Sichuan-Chongqing Advantage Industry Exhibition, Sichuan Cultural Tourism Week, and Children's Art Exhibition for the World Expo. The event shows the image of Sichuan to the world, spread the World Expo culture in Sichuan, present a colorful Sichuan event day in an all-round and multi-dimensional manner, demonstrating an open, inclusive, cooperative, and innovative new Sichuan.
It is worth mentioning that this Sichuan event day also received warm congratulations from the curators of the Egyptian and Algeria pavilions at the Dubai World Expo, as well as the Dubai Chamber of Commerce and Industry, the Japan-China Economic Association and other foreign business associations.